Making one of these collars has been on my mental 'to do' list for a while. I'm so excited that I have finally made one. I felt a little creative and decided to write my DIY in a recipe card type style. I hope that you like that idea also.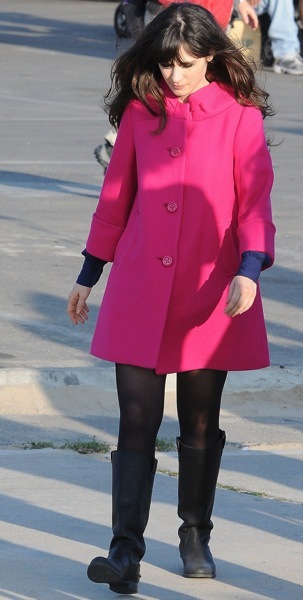 Today I woke up at 7:30am and starting watching New Girl. I really love that TV show and I finished the whole season in bed by 10am with my boyfriend. Now I'm a little sad because I finished the whole show! I do have a confession, I think one of the reasons I really liked the TV show was because I think I love Zooey Deschane ('s
style). Her outfits are so cute and (as some of you already know) I can't wait for Autumn and wear some coloured winter coats like she does in the show.
Anyway, back to my collar!
I have the steps bellow in picture form so you can create your own!
Step 1:
Place the two pieces of lace together.
Step 2:
Then stitch them together.
Step 3:
Cut the 1/2 meter of ribbon in half and then sew onto the ends of the peter pan collar.
Step 4:
Sew your button onto the middle of your peter pan collar.
Step 5:
Cut off any loose threads.
NOTE:
When attaching the ribbon, cut it on an angle and use a lighter to heat up and seal the ribbon ends to avoid it fraying.
Now that you have finished, this is what the finished product looks like. You've just got to be creative with what your wear your collar with.
Be daring and let out your inner handmade vintage style, enjoy your very own micro trend peter pan collar!